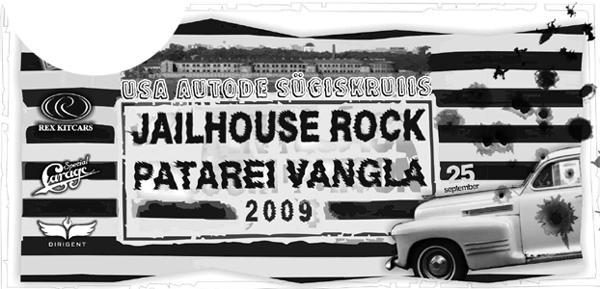 USA autode sügis- cruising "Jailhouse Rock"
25.09.09. Kogunemine 19.00 Tallinna piiril, Laagri Maksimarketi parklas
---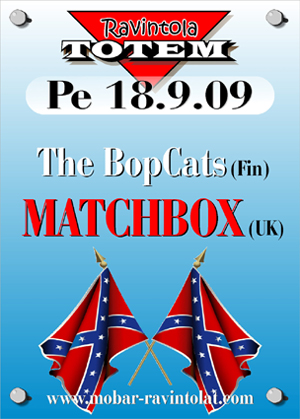 Matchbox (UK) + BopCats Lappeenrannan Totemissa
http://www.mobar-ravintolat.com/totem_etusivu.htm
---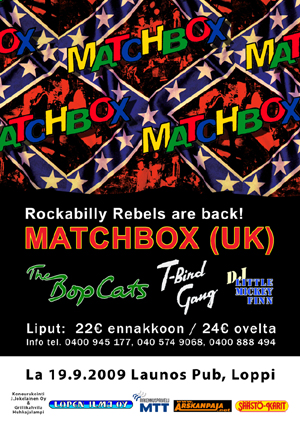 Matchbox (UK)
Launosissa Lopella > Liput ovat myös NYT myynnissä/varattavissa > Ennakkoon 22e/kpl ja ovelta 24e/kpl:
Tilinumero: 126435 - 45417 / Saaja: Rautalankatapahtuma
Maksu tilille lippumäärän mukaisesti / maks.10kpl/tilaus > Tiedonantoihin Nimi + Tel.num + Lippumäärä.
Kuittia + nimeä vastaan saa ovelta maksetun määrän rannekkeita.
n.250kpl myydään ennakkoon ja loput n.50kpl jää ovelle.
Paikka sijaitsee siis Launosissa, joka taas tulee vastaan, kun painetaan Riihimäeltä 10km Forssaan päin. Paikka vetää n.300 päätä sekä pitää
Soita lisätietoa: Koskinen 0400 945 177 tai Salonen 040 574 9068.
---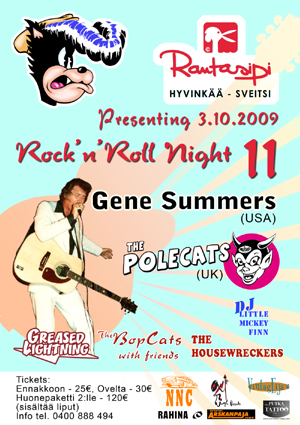 Rantasipi Hyvinkää on stage:
Gene Summers (USA)
The BopCats with Friends (Fin)
The Housewreckers (Fin)
Greased Lightning (Fin)
Dj. Little Mickey (Fin)
- Hotellipaketti - 120e - Sisältäen 2hh aamiaisineen + saunoineen + 2 lippua tapahtumaan Paketit NYT jo myynnissäRantasipi!
- Ennakkoliput tulevat myyntiin heinäkuun loppuun mennessä - 25e/kpl - tarkentuu hieman later
- Lippu/Ranneke ovelta 30e/kpl.